Wingin' it in Buffalo
January 10, 2008
John Karastamatis
Toronto Star

After decades of decline, the rust-belt city – with its forgotten landmarks, funky restaurants and bohemian boutiques – has now become a hip destination for those in the know.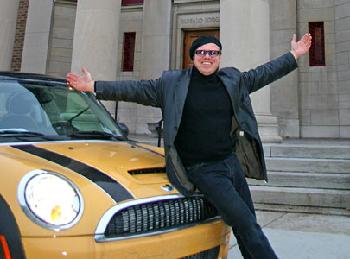 Maxwell Truth (aka tour guide Eddy Dobosiewicz) with his mini-cooper in front of Buffalo's Masonic Lodge, which is now an auction house
"Dig this, Daddy-o!" says Maxwell Truth, a beret-wearing, leather-jacketed beatnik, as he hops out of his egg-yolk yellow Mini Cooper to greet me in the parking lot of Walden Galleria.


I've hitched a ride with my wife and her friends, who are determined to shop from one end to the other of Buffalo's bustling main mall. But shopping holds no interest for me. The city of Buffalo itself has drawn me here.

After several decades of economic hardship that saw the closing of its major industries, this rust-belt city has become a hip destination for those in the know. Even New York magazine has declared that Buffalo is "on the verge of a moment ... with cool bars, shops and galleries."

Truth, a born-and-bred Buffalonian and something of a local alternative icon, has volunteered to show me the exciting, happening Buffalo that the mall-crazy visitors may not even know exists.

Truth is, Truth's name is not really what it appears. Maxwell Truth is the stage name of comedian/host/producer Eddy Dobosiewicz, who gave birth to his beatnik persona when he returned to Buffalo from Los Angeles after a successful comedy career. (He now hosts Off Beat Cinema, a B-movie and art house film series Saturdays at 2 a.m. on WKBW Channel 7).

"Like many young people, I had left Buffalo seeking something more exciting," he explains. "But the city I discovered when I came back for a visit was full of promise. Buffalo had transcended its demise as an industrial town and settled into a new life as an eclectic and funky urban centre."

Ironically, the fact that Buffalo's economic downturn was so sudden is the reason it has now become retro-bohemian cool. The city never had the time to properly shed its old haunts; these are now what attract artistic people like Truth to Buffalo.

Our first stop is the East Side, where Truth grew up.

"It's only a few minutes away," he says as we zip along in his Mini. "Nothing in Buffalo is more than 10 minutes away."

The East Side, also known as Polonia, is a working-class area that was the original settlement of Polish immigrants in the 1860s. The simple, no-nonsense wooden houses are arranged in neighbourhoods presided over by impressive churches, gargantuan stone structures holding almost 2,000 people, designed in the Polish style with imposing twin bell towers.

"In the 1800s, this place was teeming with people," Truth explains. "Back then, Filmore and Broadway was the busiest intersection in all of Buffalo. But my favourite intersection is Superman Corner."

He stops the car and points to Clark and Kent Sts.

After touring Corpus Christi and St. Stanislaus, two immaculate churches with stunning stained glass and gorgeous murals and frescoes, we head to Broadway Market, open since the mid-1800s.

Many stalls in the market have been there for generations. Polish cuisine is prominent, such as the dishes served at Perison's Diner, a classic Formica-counter-and-stool operation: kraut pierogi, Polish sausages and czarina soup, a hearty stew spiced with duck blood.

At the Famous Horseradish stall, the main item for sale is, no surprise, horseradish. It has been grated for more than 50 years by the friendly proprietor, Wanda Skup, who makes various kinds, including a version that combines radish and beet. Skup's goods are much in demand by the foodies of Western New York, who trek to the market especially at Christmas and Easter for festive foods that can't be found elsewhere. The "lamb butter" is an Easter specialty of pure butter moulded as a lamb and blessed by the Roman Catholic bishop.

Despite the churches and the food shops, Polonia is no longer vibrant. The stockyards and abattoirs that were once the area's predominant employers are long gone. Many storefronts are boarded up and some homes have been abandoned.

"In those years," Truth says, "at almost every corner there would be a bar and diner that would cater to the blue-collar workers. Most have closed, but there are a few still open."

We arrive at Daren's (at Howard and Metcalfe Sts.), but the façade is so nondescript I wouldn't know there was a bar up the steps. Inside, it is like we've entered another era. The neon-lit bar and the tin ceiling are in perfect condition, except everything is yellow from a century's worth of cigarette smoke.

There is a wooden phone booth that still has its rotary phone, light and fan. And instead of video games, this one still has an old jukebox (with music from the 1970s), an analog bowling game that looks as if it was made in the 1940s and an electronic darts machine.

The bar is tended by an older woman who has such a distinctive, impressive face, it looks as if it should be carved on the side of a mountain. She's smoking while pouring a drink for one of the three men at the bar. They look as if they could be fixtures, like all the other relics of days gone by in the joint.

"That's what's great about Buffalo," Truth says. "Places like this still stand. But they won't exist for much longer. When the owners pass away, there isn't another generation to take over."

A few blocks away is the East Side's most dramatic artifact: Buffalo Central Terminal, an art-deco masterpiece that opened in 1929 and closed in 1979. The massive brick complex includes a main concourse with a vaulted ceiling and architecture so grand it rivals New York's Grand Central Terminal (and has been used as its double in films such as The Natural).

Over the years, Central Terminal was abandoned and left to rot. Now owned by a non-profit corporation, it is slowly being restored. There are tours and special events, including art exhibits and festivals such as Dyngus Day, an Easter Monday carnival-type Polish bacchanal.

The First Ward is our next stop. This area on the Buffalo River is one of two Irish neighbourhoods. At one time, Buffalo's port was the busiest after New York. The warehouses and grain silos still exist and a few are operational – General Mills still makes cereals like Cheerios and Lucky Charms here.

Many of the homes in the area fly U.S. and Irish flags and the residents throw a wild St. Patrick's Day Parade. Among the historic watering holes worth visiting are McCarthy's Pub (at Hamburg and Republic) and the legendary Swannie House (at Ohio and Michigan), where you can get a great fish fry with your Guinness.

Downtown Buffalo is only a few blocks away. Truth zooms past Chippewa St., a former red-light district that is now the city's prime party street. Bars are open until 4 a.m. Allentown, Buffalo's bohemian neighbourhood, is not far away. This is one of Truth's main hangouts. He especially likes The Old Pink, which he describes as "a seedy, unpretentious little gin joint where you'll always find touring musicians."

He also recommends Mulligan's Bar, Nietzsche's and the Allen St. Hardware Café. And off Allen St., he raves about the restaurants of Virginia Place, especially Fat Bob's Smokehouse and Mother's, where he claims "you'll find the most beautiful women, and you'll run into Sabres and other sports professionals and media types."

Elmwood, from Lexington to Forest, has an eclectic collection of boutiques offering merchandise you won't find in the malls. Close by is stately Delaware Park with its historic mansions.

Then, it's not far to Kenmore Ave., a strip that has quickly become restaurant row with an impressive selection of high-end and funky choices.

The Sportsmen's Tavern (at Grant and Amherst) is "the honkiest, tonkiest beer joint in town" and a well-guarded secret. This 100-year-old bar is an intimate space in which to catch blues, rockabilly and funky country music.

Hertel St. is another boutique and dining destination. There is something for everyone, including a wide assortment of antique shops and two of Truth's haunts – Terrapin Station, where you'll find everything for "the love child of the hippy pot-smoking family," and Virgil Tobacconist, a smokers' lair with a walk-in humidor.

The city's South End is the other Irish neighbourhood. It is also the location of the Masonic Lodge, a majestic, colonnaded building that was almost lost to the wrecking ball. Built in 1925 and operational as a secret Masons' meeting hall until 2003, it was saved by being turned into an auction house for antiques and a special events venue.When Truth drops me off at the boring modern-day mall, he tells me he is planning to offer organized tours like the one he just gave me. And he promises even more "Nickel City oddities," such as the polka-singing bartender.
Shopping just can't compare.

For more information on Maxwell Truth and his tours go to www.forgottenbuffalo.com and www.offbeatcinema.com
All contents of this site © 2010-2011 by Forgotten Buffalo. Some images and text used throughout the site are protected by individual copyright holders. No content may be copied or reused without written permission from Forgotten Buffalo. Please contact us at ForgottenBuffalo@aol.com with questions or comments.