A Moment in Time in the Polonia District
Polka Legends Spend A 1968 Summer Afternoon at the Warsaw Inn
Click image to see vintage polka concert posters
The Warsaw Inn, located at 1171-1173 Broadway in Buffaloís Polonia Historic District was one of a large number of taverns, clubs and restaurants that were regularly filled with the sounds of live polka music. In walking distance from the Inn was the Polish Village, across the street was the private Polish Singing Circle Club and nearby were the clubrooms of the Chopinís Singing Society. In later years, polkas could be found at the Broadway Grill just down the street.

In the 1960ís, it seemed like polka music was EVERYWHERE on the Eastside!



Letís take a trip back in time to 1968 and stumble into Ed and Millieís Warsaw Inn on a warm summer Western New York day. The details are sketchy, as it seems to have been a pretty good party weekend. A Polish Lawn Fete with live polka music. A relaxing afternoon recovering with friends and fellow musicians at the Inn. The celebration of a friendís birthday and a little bit of alcohol induced fun. For one glorious afternoon, future Polka Hall of Fame Members Eddie Blazonczyk, Chet Kowalkowski, Marion Lush and Jerry Darlak held court at 1171 Broadway.
In 1968, Marion Lush was one of Americaís biggest touring polka stars, performing over 300 nights a year in cityís across the country. Eddie Blazonczyk and the Versatones were still considered one of the young and up and coming bands but could hold their own with a rapidly growing fan base. At one time, the Buffalo chapter of his fan club had over 10,000 members!
The pictures in this exhibit were donated to Forgotten Buffalo by
Rich Kurdziel. Stored for many years in his Babciís (Grandmotherís) attic, the images represent a rare color view of the vibrant Buffalo and national polka scene. For more treasures from the Kurdziel archives, see the link above for a collection of historic polka concert promotion posters.
Eddie Blazonczyk receives a cake as Marion Lush sings Happy Birthday
Marion Lush, Eddie Blazonczyk and Chet Kowalkowski
Dyno Recording Star Marion Lush outside his gig van.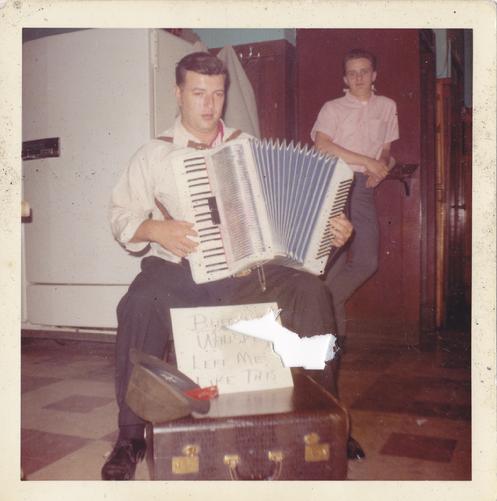 Marion Lush jokingly plays for tips at the Warsaw Inn
Eddie Blazonczyk's Versatones play in the backroom of the Warsaw Inn
Marion Lush sings with the Versatones
To go back in time...just for an afternoon Lush and Eddie
Chet Kowalkowski gets it in the face.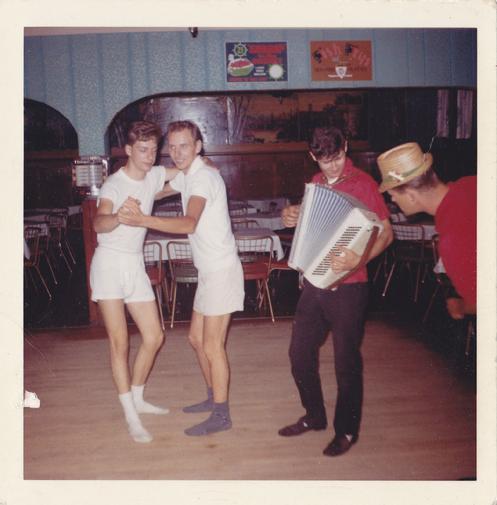 After the cake war....Chet Kowalkowski
Bobby Sendra played drums and Richie Sendra (brother) played accordian with the Versatones. They were original Versatones, in the band before Eddie Blazonczyk. I believe the guy with the Crush Lush shirt is Rich Sendra - note from Rich Kurdziel
Richie Sendra, Eddie Blazonczyk and Chet Kowalkowski at an unnamed Buffalo Lawn Fete
The former Warsaw Inn had seen better times when this picture was taken in the mid-90s. The building has since conitnued to decay and is on the City of Buffalo's demo list.
All contents of this site © 2010-2011 by Forgotten Buffalo. Some images and text used throughout the site are protected by individual copyright holders. No content may be copied or reused without written permission from Forgotten Buffalo. Please contact us at ForgottenBuffalo@aol.com with questions or comments.